NOVEMBER 2013... Alphabetical Listing

ACG Denver, Dan Burns, Accuvant - Slideshow
Mike Biselli, MedPassage, CMO & CoFounder
CTP Annual ASCENT Awards 2013,
Larry & Pat Nelson, w3w3.com, Receive Inaugural Tech Icon Awards
CTP Ascent Awards, Slideshow & Winners
Brad Feld & Jerry Colonna,
Defrag 2013 - Emotional Challenges of Entrepreneurship [3 Parts]
Defrag Conference 2013, Slideshow
Steve Dine, Datasource Consulting
Steve Dine, Part 3
Tim Fells, SendGrid, Director Developer Relations
Galvanize an Ecosystem,Mike Biselli & Chris Onan
Sherisse Hawkins, Beneath the Ink, NCWIT Hero
Michael Hess, Blind Institute of Technology
Bart Lorang, FullContact - 100% Accurate - in the Cloud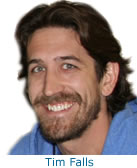 Colorado company growing rapidly and spreading globally

1467_ 11/25/13 - It has been a busy time, but we are back at DefragCon 2013 with Tim Falls, director of developer relations at SendGrid, a Colorado company growing rapidly and spreading globally, that enables companies to more effectively communicate with their customers via email. They do that by providing tools for both developers and marketers to send emails to their customers. So they have both a technical and non technical audience - providing tools to both. And they do this on a very large scale, closing in on 200 billion emails sent - just in this past October they sent 10 billion emails. Interestingly, the majority of their customers are startups - anywhere from one or two developers building out a prototype of an application to companies of 5 or 10 all the way up to big companies with thousands of employees, and they work with companies across all sectors, tech web companies are probably the biggest, but they have political campaigns, universities, non-profits. Tim came to Boulder five years ago - he knew he wanted to get involved with entrepreneurship - startups, and TechStars was his introduction to that. He worked as an intern there and met SendGrid ...listen for more...
RELATED LINKS: SendGrid || Defrag || Techstars || Communication Technologies || Software || Podcast Directory || KEYWORDS: Tim Falls, SendGrid, Email, Marketing, Techstars, Defrag, Pinterest, Tumbler, Spot 5, Foursquare, , bytes=6151421
LISTEN TO: Tim Falls, Dir., Developer Relations, SendGrid

Powered by Podbean.com
Identify, Integrate Valuable Data Across Multiple Systems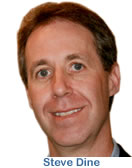 1464_ 11/18/13 - We met Steve Dine, managing partner/founder of Datasource Consulting toward the end of October. In the first part of this interview with Steve we talked about how Datasource actually helps companies large and small, identify their data and to integrate that data across multiple systems. You can go back to that first interview - Click HERE
Getting the most out of your data means identifying where the value is, business intelligence initiatives are earned investments and so as companies decide where they're going to invest their money they need to determine what the return on that is going to be. Part of making that determination is understanding where you will get the biggest bang from a buck. So you identify the value, identify who the analysts are and where you can analyze within your organization, who your constituencies are, most often they are internal. But in the financial services industries all their customers are external. Steve's first great success in IT and business intelligence came about when he was working in Boulder, in finance and he was given the opportunity to work with a big manufacturing company who understood the value of BI...listen for more...
RELATED LINKS: Datasource Consulting || Communication Technology Professionals || Communication Technologies || Software || KEYWORDS: Steve Dine, Datasource, Datasolutions, Consulting, Big Data, Integrate, Scalable Maintainable Data Integration, Business-Intelligence Solutions. bytes=5190115
LISTEN TO: Steve Dine, Founder/Managing Partner, Datasource Consulting

Powered by Podbean.com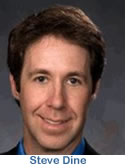 They need to determine ROI on their Data

1470_ 11/25/13 [Part 3]- We are back with Steve Dine, managing partner/founder of Datasource Consulting. Steve has explained to us how Datasource Consulting actually helps companies large and small, identify their data and to integrate that data across multiple systems. In the second interview we learned that getting the most out of your data means identifying where the value is. Business Intelligence initiatives are earned investments and so as companies decide where they're going to invest their money they need to determine what the return on that is going to be. Now in this last interview with Steve, we get an example of how valuable this information can be with a short case history - a great success story... Listen for more
RELATED LINKS: Datasource Consulting || Communication Technology Professionals || Communication Technologies || Software || Economy Builders || Mastering Change || KEYWORDS: Steve Dine, Datasource, Datasolutions, Consulting, Big Data, Integrate, Scalable Maintainable Data-Integration, Business-Intelligence Solutions, bytes=7539882
LISTEN TO: Steve Dine, Datasource Consulting

Powered by Podbean.com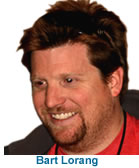 Cloud-based contact management system

1466_ 11/18/13 - We're at DefragCon 2013, catching up with Bart Lorang, CEO and Co-founder of FullContact a Colorado company, which is a cloud-based contact management system. If you can imagine your address book in the cloud, updated instantly and automatically. Really, FullContact works to bring all of your contacts, from all of your services together, into one place, merges and de-duplicates them, keeps them all up to date and accessible on any service and any device. In short, they're making an address book that just works for you. Bart says they're rolling out their web address book, in production - only opened the beta to about 10,000 users so far - and will be rolling it out publicly to 100's of thousands of people on the waiting list. In addition they have Apps for the iPhone, iPad and Mac and a really intriguing business contra-inscription - 100% accuracy; email signature extraction which is extracting the contents of people's email signatures and updating your address book automatically. Bart said, "We have a lot of cool things rolling out and ultimately ...." Listen for more
RELATED LINKS: FullContact || Foundry Group || Defrag || Economy Builders || Mastering Change || KEYWORDS: Bart Lorang, FullContact, Cloud-Based, Contact Management, Apps, iPhone, iPad, Mac, Defrag, Foundry Group, Colorado Company, Entrepreneurs, Denver Mayor Michael Hancock, bytes=7539882
LISTEN TO: Bart Lorang, CEO/CoFounder, FullContact

Powered by Podbean.com
Communication Technology Pros - Ascent Awards 2013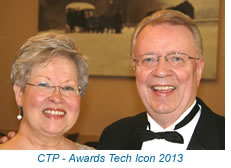 1462_ 11/11/13 - The Annual Ascent Awards celebrate Colorado entrepreneurial technology companies, recognizing excellence in a variety of categories. The event was presented by CTP and TiE® Rockies and the Innovation Pavilion where the event was held. "Larry and Pat are ever-present and constant supporters of Colorado tech companies," says Debora Langer, CTP president. "The board wanted a way to express how much Larry and Pat have meant to us over the past 15 years—and the Tech Icon Award was born in an immediate and unanimous decision. We are thrilled to be making the inaugural award to Larry and Pat, who are Colorado's true tech icons. The Nelson's have supported technology companies and companies in diverse industries since co-founding w3w3®Media Network in 1999. The w3w3 all-business radio show website consists of blogs, podcasts, articles, recorded and archived audio and video interviews, business photos and a business calendar of events. Additionally, Larry conducts in-house seminars and offers keynote addresses on various business topics, including 'Mastering Change in the Midst of Chaos,' also the title of his latest book. Congratulations to The Ascent 2013 Award WINNERS: Most innovative – Audioair; Hottest company – ReadyTalk; Fastest growing – One World Labs; Most employee growth – Zayo Group; Best use of social media – Simple Signal; Most innovative technology - FORTRUST; Most charitable company – Global Communications Group; Coolest new product – iTriage; Best XaaS offering – Ajubeo; Best reinvention of a company – Convercent; Biggest impact on Colorado – Level 3; Best startup – C 10; Best working environment/coolest culture – Apoorva; Most dogs in the office – Wayin; Most bicycles in the office – LinkSmart; Company with the best patio in town – SendGrid; Best free food – Google; Coolest new technology – PlayerLync; Most ski-days – Vail Resorts; Coolest Logo - Radish Systems; w3w3® Media Network - 2013 CTP Tech Icon Award
RELATED LINKS: Communications Technology Professionals || Ascent Awards || TiE Rockies || Innovation Pavilion || KEYWORDS: Ascent Awards, Tech Icon Award, Winners, Communication Technology Professionals, Debora Langer, Gary Gaessler, TiE Rockies, Innovation Pavilion, DTP
11-07-2013 Annual Ascent Awards 2013




CTP and TiE Rockies Annual Ascent Awards 2013; at the Innovation Pavilion - A celebration of entrepreneurial technology companies and their achievements! Meet Larry and Pat Nelson of w3w3 Media, and join CTP in recognizing their work with the new Ascent Technology Icon Award!
11-05-2013 ACG Denver Dan Burns, Accuvant Slideshow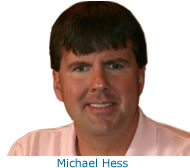 Attack a problem in a completely unique and multi sensory way

1468_ 11/25/13 - He is a self described IT nerd and is visually impaired. He says, being a blind technical professional, he has learned how to use certain tips, tricks and technologies to overcome the visual obstacles. Michael Hess is the founder of Blind Institute of Technology (BIT) He started BIT with one mission in mind, and that is to bridge the gap between the Visually Impaired Community and the corporate environment. . He's come to appreciate the proverbial blinders he's had to wear, have really helped to make it so much easier to focus on the content than his sighted peers - especially when you're requirements gathering. To highlight, Gartner has the statistics that quantify this - 80% of all IT and Network projects are either not on time, on budget or delivered at all. There is this breakdown that takes place. But in Mike's case, his projects have always met those requirements and he's realized his 'blinders' really are an asset. Based on this, Mike has developed a Team Building program and what he is doing is taking teams in technology organizations and putting them under blindfolds and having them produce tasks. His firm has developed different exercises for each sightless principle. Communication doesn't have to be complex but it has to be clear. Sometimes we need to attack a problem in a completely unique and multi sensory way. And the lost art of collaboration ...listen for more...
RELATED LINKS: The Blind Institute of Technology || Events & Speaking Engagements || Podcasting Directory || CIMCO || In the News || KEYWORDS: Michael Hess, Blind Institute of Technology, BIT, Visually Impaired, Project Management Institute Mile Hi, CIMCO, Community Reach, bytes=7301645
LISTEN TO: Michael Hess, Founder, Blind Institute. of Technology

Powered by Podbean.com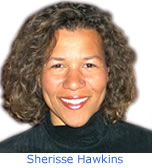 Passion for Meshing Creativity & Technology

1463_ 11/18/13 - Lucy Sanders, the CEO for the National Center for Women and Information Technology or NCWIT, is back with another in the series of interviews with fabulous entrepreneurs. Lucy is joined be Larry Nelson, co-founder of w3w3.com Talk Radio. This series focuses on women who have started "IT" companies in a variety of sectors, all of whom have just fabulous stories to tell us, about being entrepreneurs. Today we are interviewing Sherisse Hawkins a former Disney imagineer, with a passion for working on projects that mesh creativity and technology on a large scale. Sherisse Hawkins is the Co-Founder and CEO of Beneath the Ink. Beneath the Ink is a company that provides app-less enhancements for e-books. Using Beneath the Ink technology, it's easy for authors to embed additional content for readers to access when they choose. These enhancements are called Binks. Each Bink gives readers more insight into the characters, places, concepts, and words that pique their curiosity — without ever leaving their page. Sherisse is the former VP of software development at Time Warner Cable. Sherisse loves technology...listen for more...
RELATED LINKS: Beneath the Ink || NCWIT Home || NCWIT Blog || Heroes Channel || Podcast Directory || KEYWORDS: Sherisse Hawkins, Beneath the Ink, Lucy Sanders, National Center for Women in Technology, NCWIT, Women, Girls, Technology, Computing Fields, Bink > bytes=16158618
LISTEN TO: Sherisse Hawkins, CEO, Beneath the Ink

Powered by Podbean.com
Innovation is stagnant now in the medical device arena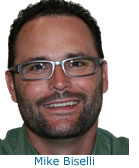 1469_ 11/25/13 - We are talking with Mike Biselli, Chief Marketing Officer and co-founder of MedPassage. At the very highest level, MedPassage is your 'Amazon.com' specifically built and engineered for the medical device implant industry. As you know, in our country right now, we are going through significant change in healthcare. With that said, Mike and his cofounder have spent 20+ years of direct experience in the medical device industry and they are leveraging that tribal knowledge into purposing and then creating a platform that will help disinter mediate and create more efficiencies within the implant space. Mike said, "As you know we need a reduced cost on all fronts within healthcare and it is our objective and our motive to see that through within the medical device implant space." MedPassage has noticed that innovation is stagnant now in the medical device arena... so we're going to have these technologies that we've been using for the last 10-20 years continue to dominate for the next 5-15 years if this market corrects. The point is why do we continue to march down the road where we have a sales distributor involved with these products that doctors know like the back of their hand? There's more...
RELATED LINKS: MedPassage || Galvanize || Economy Builders || Blog || KEYWORDS: Mike Biselli, MedPassage, Chris Onan, Galvanize, Tech Ecosystem, Entrepreneurs, Colorado, Medical Implant Devices Industry, healthcare, change, sales commissions, bytes=5811203
LISTEN TO: Mike Biselli, CoFounder/CMO, Med Passage

Powered by Podbean.com
We first came into this ecosystem back in 2012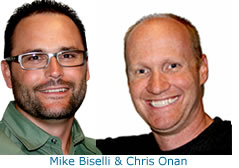 1463_ 11/18/13 - We are talking with Chris Onan, Co-founder and Managing Director Galvanize, and Mike Biselli, Chief Marketing Officer of MedPassage who has an office suite here at Galvanize, actually one of the first ten clients. Galvanize was built to be a tech ecosystem. So, that is a community of tech companies working in and around one another. We wanted to do that because there is a ton of great tech activity here in Denver. At least in this neck of the woods there wasn't any nexus for great tech companies. Mike Biselli said, "It's been an evolution for our organization, the benefits that Galvanize continually brings to us. When we first came into the ecosystem back in 2012, the first and foremost benefit for us was being around other like minded entrepreneurs. Seeing others going through the same pain problems that you are and not feeling like you're the only one going through those..." Mike said, "that was the first evolution followed by the second - being introduced by folks like Chris and the other founders here at Galvanize and other entrepreneurs... Going back to the capital, had we not been part of Galvanize, we wouldn't have secured part of our funding that just occurred recently. We literally received a six figure plus round of capital because we were based out of Galvanize", said Mike. This huge entrepreneur knowledge share is terrific...
RELATED LINKS: Galvanize || Chris Onan || Venture Capital || Blog || KEYWORDS: Mike Biselli, MedPassage, Chris Onan, Galvanize, Tech Ecosystem, Entrepreneurs, Colorado, Appian Venture Capital, David Cohen, Brad Feld, Funding, Talent > bytes=5811203
LISTEN TO: Chris Onan, & Mike Biselli, Galvanize

Powered by Podbean.com
1461_ 11/11/13 - Brad Feld and Jerry Colonna ...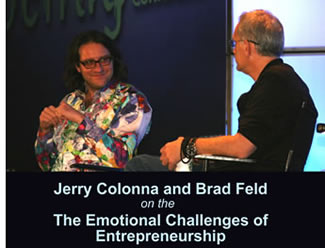 ...shared a candid and open discussion of the emotional challenges of entrepreneurship at Defrag 2013. In a remarkable demonstration of openness and bravery, Brad continues to share his own journey with depression over the last year. Both through his personal blog, and again with a live audience at Defrag 2013, Brad openly shares the pain of depression, the importance of support provided by his wife Amy and close friends, and in doing so, attempts to break the barriers and silence surrounding mental illness.
LISTEN TO: The Emotional Challenges of Entrepreneurship Part 1 of 3

Powered by Podbean.com
(part 2 of 3, 1360_ 11/11/13 -


The stigma and practice of social silence surrounding mental health issues prevents many from accessing or even seeking help for what science has long recognized as a common ailment. Depression affects approximately one in every three people, and yet we continue to struggle in our efforts to penetrate the wall behind which many of society's brightest minds suffered in silence. Abraham Lincoln, Winston Churchill, Albert Einstein

and astronaut Edwin 'Buz' Aldrin all suffered from clinical depression masked by the carefully chosen monikers of melancholy or the blues.

LISTEN TO: The Emotional Challenges of Entrepreneurship Part 2 of 3

Powered by Podbean.com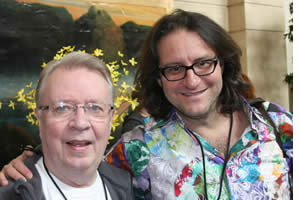 Everyone of us experiences
short periods of sadness, loneliness or depression; each of these normal emotions in the course of one's life that arise from troubling times, challenges, loss or the hurtful actions of others. True clinical depression, however, often results in a pervading and deep sense of depression that permeates all aspects of life, which often become overwhelming, and cause the sufferer to experience an inability to cope with or carry out regular activities of daily living, and negatively impact the individual's ability to participate in quality, active life events. Depressive symptoms vary significantly from one individual to the next, but common and recognizable symptoms may include a generalized sense of hopelessness, loss of interest in activities previously found pleasurable, and a generalized sense of sadness and loss that overshadows everything. Join Brad in his efforts to achieve the seemingly impossible and ever important struggle to break the shroud of silence surrounding depression. Listen to all three segments of Brad Feld and Jerry Colonna's open and frank discussion of the emotional challenges of entrepreneurism.
RELATED LINKS: Foundry Group Blog || Foundry Group || Jerry Colonna || Entrepreneurial Depression || Defrag || KEYWORDS: Brad Feld, Jerry Colonna, Defrag, Entrepreneurs, Depression, Foundry Group, VC, Venture Capitalists, Emotional Challenges of Entrepreneurship
LISTEN TO: The Emotional Challenges of Entrepreneurship Part 3 of 3

Powered by Podbean.com
Defrag Conference 2013
WHAT IS DEFRAG? Defrag started in 2007 as a forum for exploring information overload and building implicit tools for the web. In years 2-4, Defrag's focus shifted to things like enterprise collaboration, social media and big data. As Defrag entered its 5th year, it firmly established itself as one of the premiere thought leader discussions about "what's coming next" in technology, where Defrag's time horizon is usually looking out 18-24 months. Defrag is now where the influencers gather.